NIOS Admission 2023-24 Open For 10th And 12th Students
NIOS Admission 2023-24

open

for Stream-1

Block-1

(10th and 12th students)
9th, 11th Failed Student Can Directly Pass Class 10th or 12th
NIOS Admissions are Open for Stream-1 Block-1 exams which are held in April - May 2023-24 for those students who wants to appear in secondary exam directly and also wants to appear in senior secondary exam directly 10th and 12th exams by NIOS board.
The final day to apply for NIOS admission without incurring a late fee was July 31, 2023. For 12th NIOS admission, the deadline with a late fee for ths 2023-24 academic year is September 15,2023.
SS Coaching NIOS lucknow centre, helps to prepare you for the examination of National Institute of Open Schooling Board (NIOS) in Stream-1 for Block-1. Hurry-Up to save your precious time and take the admission in SS Coaching. Seats are limited. Secure your future with NIOS admission in Lucknow at SS Coaching.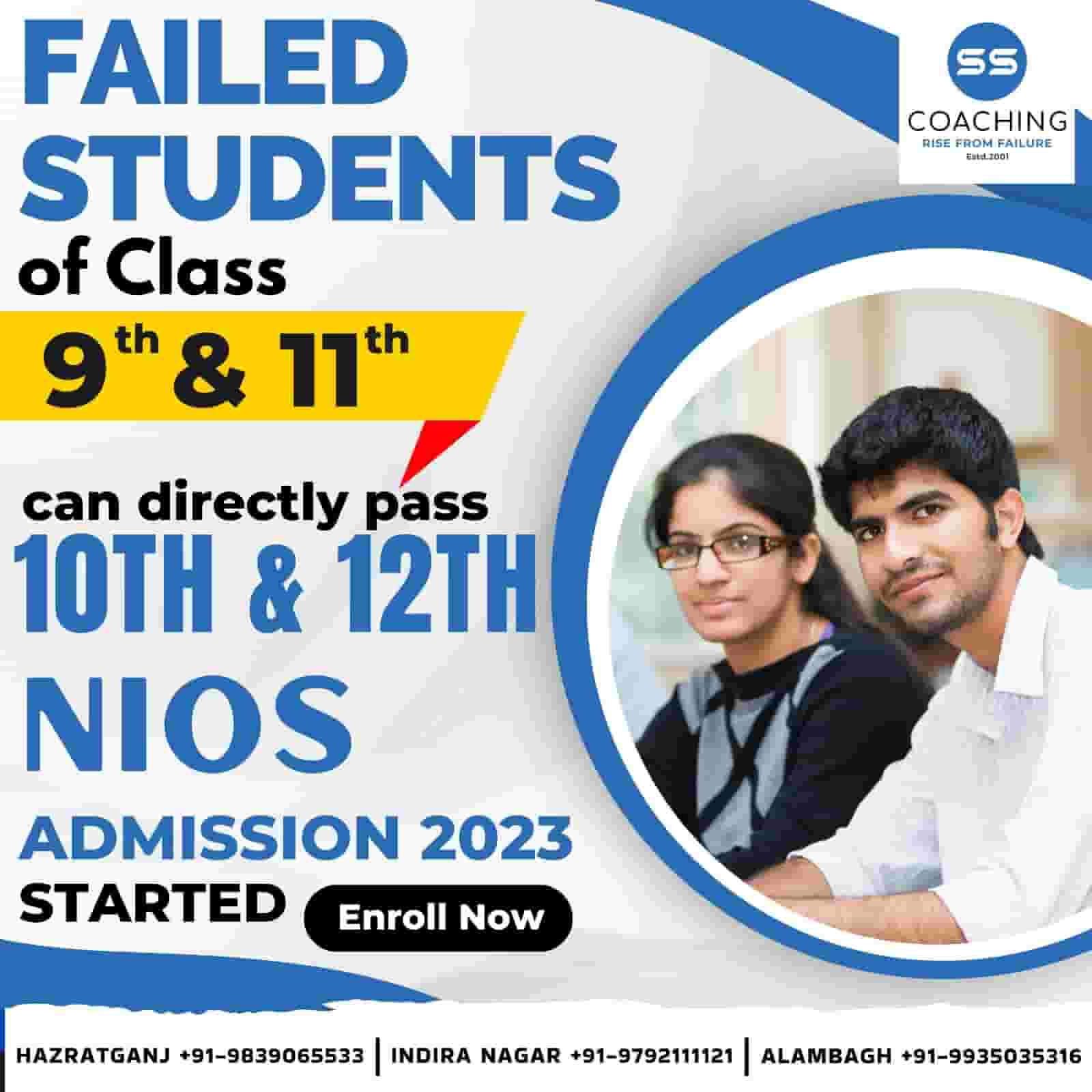 The NIOS is a great step in providing quality education.The Govt. of India has vested authority with National Institute of Open Schooling (NIOS) to conduct Public Examinations and provide Secondary and Senior Secondary level certificates, which are equivalent to the certificates provided by any other Board. National Institute Of Open Schooling (NIOS) is one of the three National Boards while the other two are CBSE and ICSE.
In Stream 1st (Block 1) of NIOS Board, Marksheet, Provisional Certificate, Migration cum Transfer Certificate, and Passing Certificate will be awarded of the year 2023-2024 to successful learners. Learners taking NIOS admission through SS Coaching NIOS lucknow centre, under Stream-1 will be attached to the AI (Study Centre) adopted by them at the time of admission and will be eligible for TOC as per conditions are given in NIOS Prospectus.
Contact us: 9792111121, 9839065533, 9935035316 for getting the admission in NIOS Board
Note: NIOS Stream 1 Block 1 registrations
are

Open

for April & May 2023-2024.
Now you can apply for Stream 1 Block 1 till the last date.
Block in NIOS Stream 1

Admission Date

First Examination in 2023-24

Block 1

Admission Open

Call Now:
9839065533,

9792111121,
9935035316

Examination Month April & May

2023-24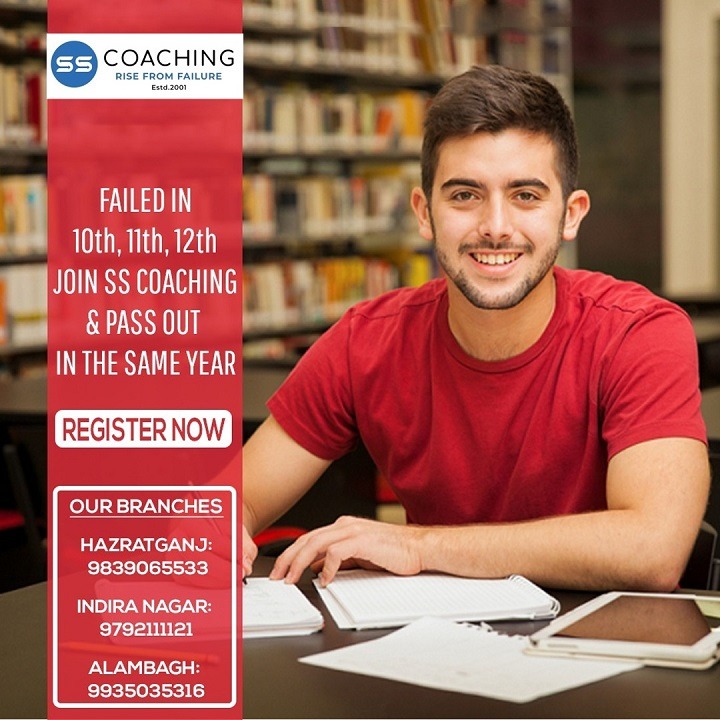 How to apply for NIOS Admission?
The NIOS admission for class 10th (secondary) and class 12th (senior secondary) is open for Stream-1 Block-1 examinations. All the students who wish to appear for the NIOS for 10th & 12th exams in the month of April & May 2023-24 and want to give their best in the exams can fill the NIOS online admission application form through our website of NIOS Coaching Lucknow.
Follow points below to apply for the admission for NIOS:-
Visit the admission portal of SS Coaching

-

https://sscoaching.in/onlineforms

Fill in all the details required

Upload all the supporting documents

Save your form for future references

Click on the 'Submit' Button
NIOS Admission Last Date
Why should you Apply Enrollment in NIOS?
We have seen many students who are not good in many subjects. They get poor marks or fail in their board exams and get easily distracted in life. These students lose all hope in life in the field of education. Here NIOS board came as blessings in life as this NIOS gives any student a second chance to qualify their board exams without wasting the whole year.
In the NIOS Board, you can appear for a few subjects in the first half of the year and for the remaining subjects in the next half of the session.
REQUIRED DOCUMENTS FOR ADMISSION IN NIOS
STREAM 1 BLOCK 1
For Class 10th (Secondary)
Birth Certificate form Nursing Home/First Class Magistrate/Nagar Nigam/Aadhar Card/any ID Proof.

8th Class Pass Transfer Certificate.

6 Colored passport size photographs along with Name and Date.

Guardian/Parents Address proof (Photocopy) except Driving License.
For Class 12th (Senior Secondary)
Photo Copy of Class 10th Mark Sheet and Passing Certificate.

Photo Copy of Aadhar Card/any ID Proof.

6 Colored passport size photographs along with Name and Date.

Guardian/Parents Address proof (Photo Copy) except Driving License.
SOME IMPORTANT LINKS IN NIOS ADMISSION

NIOS FORM AND SUBJECT LISTS

NIOS Subjects Lists For Class 10th & 12th

Click Here

NIOS ADMISSION IN DIFFERENT STREAMS

NIOS ONLINE PROSPECTUS & ONLINE STATUS

NIOS Admission 2023-24 last date

Click Here
Why SS Coaching for NIOS Exam?
SS Coaching is the best NIOS coaching lucknow that will help failed students to clear secondary and senior secondary exams. NIOS board passed students can comfortably appear for the competitive exams like IIT-JEE, AIEEE, PMT (NEET), CA, CS, ICWA, CLAT, and other more professional completive exams. SS coaching will help you to pass exams through the NIOS board which is equivalent to the other boards like ICSE or CBSE.
SS Coaching is renowned for NIOS Coaching in Lucknow providing information about NIOS board (National Institute of Open Schooling) and tuition classes for secondary class (10th) and senior secondary class (12th). SS Coaching NIOS lucknow centre, also helps students to fill the online admission forms in streams 1, streams 2, streams 3 & 4 of the NIOS Board for qualifying 10th and 12th class.
FAQ's
Q. Is NIOS government or private?
Ans. NIOS (National Institute of Open Schooling) is a government institution established by the Ministry of Education, Government of India. It is a recognized and reputable board providing open and distance education to learners across the country.
Q. What is the benefit of NIOS?
Ans. The National Institute of Open Schooling (NIOS) offers several benefits, including flexible learning options, open access to education, recognition by government bodies, accreditation for further education, skill-based vocational courses, self-paced study, eligibility for competitive exams, and opportunities for lifelong learning and skill development.
Q. What is the scope of NIOS students?
Ans. NIOS students have a wide scope, including opportunities for higher education, pursuing professional courses, appearing in competitive exams, joining the workforce, and accessing skill-based training programs. NIOS provides flexibility, recognition by government bodies, and a chance for students to acquire knowledge and skills that can contribute to their personal growth and career advancement.
Q. Can I take direct admission in 12 in NIOS?
Ans. Yes, you can take direct admission in 12th class in NIOS if you meet the eligibility criteria. NIOS offers direct admission to students who have passed 10th standard from a recognized board. You can apply for admission online or offline by submitting the required documents and fees. It provides an opportunity for students to pursue their education through flexible learning and obtain a valid 12th class certificate.
Q. Is NIOS valid for jobs?
Ans. Yes, NIOS is valid for jobs. NIOS certificates are recognized by the government and various organizations for employment purposes, enabling NIOS students to apply for government and private sector jobs. NIOS provides a legitimate and equivalent qualification, opening up employment opportunities for its students.
---