NIOS Result 2023 Class 12th (Senior Secondary)
NIOS result from 2023 for the senior secondary 12th attempt.
The NIOS results will be updated soon, as confirmed by NIOS officials. Students can verify their results by clicking the red icon button below. The National Institute of Open Schooling (NIOS) in New Delhi conducted the 10th and 12th class examinations in 2023. Parents, guardians, educational institution management, and staff can find the NIOS results on this page. To stay up-to-date with NIOS Delhi Board updates and news, regularly follow the SS coaching website.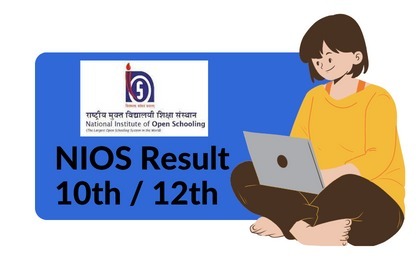 National Institute of Open Schooling (NIOS), New Delhi conducted the 10th and 12th Class Examinations in the month of April-May 2023. You can check the NIOS 10th and 12th 2023 results on this website results.nios.ac.In 2023, we are providing detailed results for the 2023 NIOS attempt. Candidates, parents, guardians, educational institution management, and staff have reached the right page to get their results. Follow our website frequently to stay up to date on NIOS Delhi board updates and news.
We at sscoaching NIOS lucknow centre, are regularly monitoring the NIOS board announcement of the result 2023 about academic and vocational x, xii nios examination results. The 10th 12th standard academic learners are advised to stay connected and informed about any updates on the exams that nios conducted of the practical theory exam 2023. Please bookmark this page to check the result as soon as it is declared. We wish good luck to all students of 10th and 12th academic secondary sr. secondary for their good marks in NIOS results 2023.
Highlights - NIOS Result 2023
| | |
| --- | --- |
| Organization | National Institute of Open Schooling (NIOS) |
| Class | 12th (Senior Secondary) |
| Session | 2022-2023 |
| Exam Date | April-May 2023 |
| Result Date | Available Soon |
| Mode of result | Online |
| Official Website | |
| Required credentials | Enrollment number |
| Re-evaluated result | Within 60 days from the date of application |
| Re-evaluation/rechecking application | Within 15 days after result |
How to check NIOS Result 2023 (Senior Secondary)?
Senior Secondary students can check their NIOS Result 2023 via three options:
NIOS official website

SMS services

SSCoaching.in
FAQ's
Q. How can I download NIOS Marksheet?
Ans.
To download your NIOS Marksheet, visit the official website of NIOS, log in to your account, navigate to the Results/Mark Sheet section, locate your marksheet, and click on the download option to save it to your device.
Q. How can I get Nios 12th pass certificate?
Ans.
To obtain your NIOS 12th pass certificate, you can apply online on the NIOS website or through the offline mode by submitting the required documents. Fill the application form, pay the fee, attach necessary documents, and submit. Once processed, your certificate will be dispatched to your registered address.
Q. How can I check my NIOS Marksheet online?
Ans.
Visit the official NIOS website, sign into your student account, choose the "Results" or "Mark Sheet" section, enter your information, and view or download your marksheet from there to verify your NIOS score online.
Q. Can I give NIOS if I fail 12th?
Ans.
Yes, even if you failed the 12th grade, you are still eligible to join in NIOS. Through their open schooling programme, NIOS gives you the chance to take tests and get a 12th grade diploma, completing your education.
Q. Can 12 fail apply for NIOS?
Ans.
It is true that pupils who failed their 12th grade can apply to NIOS and continue their education through the open-schooling system to earn a 12th-grade diploma. Such students can continue their education by using the adaptable and inclusive platform that NIOS offers.
Q.what if i fail in 3 subjects in class 12 ?
Ans.
If you fail in three subjects in Class 12, you have the option to reappear for those subjects in the subsequent exams conducted by your respective board or enroll in NIOS to appear for the failed subjects. NIOS provides an opportunity to complete your education and obtain a Class 12 certificate through the open schooling system.
---