NIOS Admission Status class 10th/12th 2023-24
NIOS Admission for 10th /12th Online NIOS Admission Procedure 2023-24 and details about fees, validity, and procedure of NIOS admission or registration for class 10th and 12th in 2023-24 and last date of apply for NIos admission. NIOS stream 1 for Admission in NIOS with Stream 1 Block II is OPEN for all the learners in 2023 Examinations as per the laid down eligibility criteria for secondary(10th) and senior secondary(12th) level. Admission for stream 1 of National Institute of Open Schooling Board can be done by contacting SS Coaching.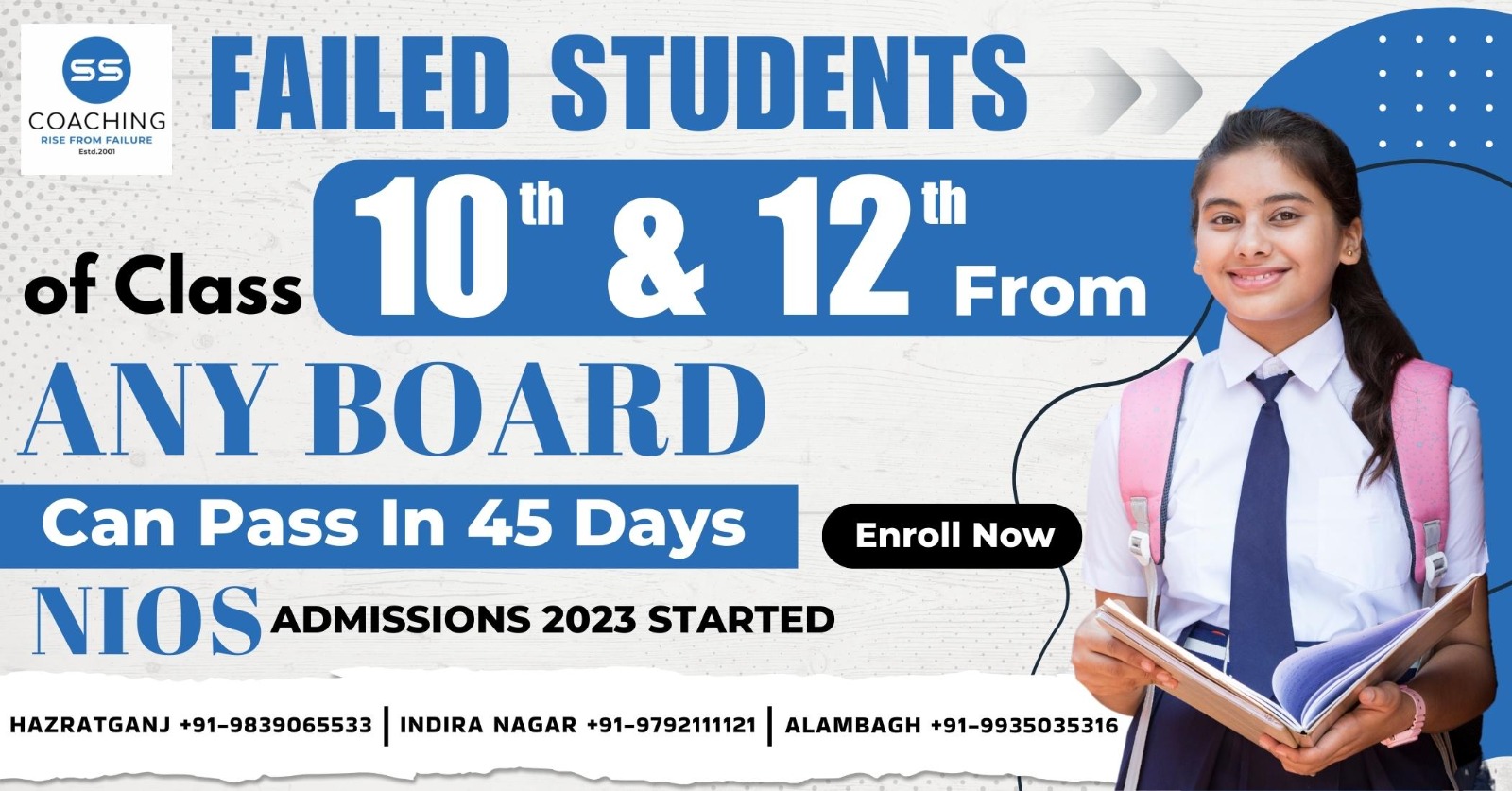 Eligibility (Documents Require) For NIOS Online Registration 2023
FOR 10th- (Birth Certificate Nursing Home/First Class Magistrate/Nagar Nigam/8th Class Pass Transfer Certificate, Aadhar Card) 6 Coloured passport size photographs along with name, date & Guardian/Parents Address proof(Photo Copy) except Driving Licence.
FOR 12th- Photo Copy of Class 10th Mark Sheet and Passing Certificate, Photo Copy of Aadhar Card, 6 colored passport size Photographs along with name, date & Guardian/Parents Address proof(Photo Copy) except Driving License.
How to get NIOS Online Admission 2023
NIOS build up the need-based scholastic and professional instruction programs up to pre-degree level. In the event that understudies are not ready to give exam of all subjects without a moment's delay, they can pick NIOS which gives freedom to give exam two times in a year choosing just a some of subjects not all courses. Along these lines, a student can give exams on all subjects one by one. The fundamental goal of NIOS is to keep up the nature of training for Open and Distance learning projects and making it intense through innovative work exercises. NIOS is giving open tutoring at national and also worldwide level and sharing assets and concentrate material. Much the same as CBSE (Centerboard of Secondary Education), CISCE (Council for the Indian School Certificate Examinations) and different sheets. The estimation of NIOS passed competitor is finished comparable to these sheets (India and Abroad). NIOS has multichannel conveyance modes for exchange to choose courses and projects. NIOS likewise go under Ministry of Human Resource Development of India. It gives a specialized and additionally budgetary help to State Government for setting/Scaling up of SOS (State Open Schools).
NIOS Admission Last Date for Registration
Short Information of NIOS Admission 10th/12th Online Form 2023
NIOS Admission Status: Track Your Application Progress
To check your NIOS admission status for 2023, follow these simple steps:
To view the NIOS admissions status 2023, click here.

Look for the "Admission" or "Admission Status" section.

Click on the "Admission Status" link.

Enter your enrollment number or reference number.

Double-check the entered information and submit.

The admission status for 2023 will be displayed.

Make a note of the status or take a screenshot for reference.
NIOS Admission Status 2023 Important Information
Comments/Remarks

Admission and course details

Subjects

Previous qualification details

Student's personal details

Study Centers allotted to a student

fee and Transaction details
​
Time for Confirmation of NIOS Admission 2023 Status
Normally,it takes around 30-45 days to find out the NIOS Admission Status for 2023. The admission status is confirmed by issuing an ID card from NIOS. However, it's important to note that admission can be revoked if any errors are found during the process. If your admission gets cancelled, even if you appear for the exam, your NIOS 10th and NIOS 12th results for 2023 will not be released. It's crucial to ensure a smooth admission process to avoid any complications with your exam results.
How to Apply for NIOS Admission 10th/12th Online Form 2023
Interested Student may apply online through the SS Coaching official website of NIOS from 21-May-2023 to 10th-July-2023.
Mode of Selection for NIOS Admission 10th/12th Online Form 2023
Online mode of Admission
On-Demand Examination in NIOS
In NIOS on request
affirmation
, you can give exam
inconsistently
by choosing the dates of
the exam
(if the seats are accessible for this particular month) and get the outcome following 45 days. Along these
lines
, you can spare your chance. Call us for help and recommendations.
SSCoaching nios Lucknow, helps students get complete information about NIOS board (National Institute of Open Schooling) with coaching classes that prepare students for clearing nios exams, syllabus and tuition for 10th & 12th students of NIOS Board by qualified staff and trainers who have a decades experience of nios curriculum. SS Coaching NIOS Lucknow, also helps in form filling for admissions in each stream (stream 1, stream 2, stream 3 & 4) of NIOS Board for 10th and 12th admission seekers. If you are seeking Nios Admission, SS Coaching NIOS Lucknow can guide you with the admission process for all streams of NIOS Board.
FAQ'S
Q. What is the last date of NIOS admission 2023?
Ans. By completing the NIOS admission form on the official website, nios.ac.in, students can register for NIOS admission 2023–24 online. The final day to apply for NIOS online admission, without incurring a late fee, is July 31, 2023. The final day for 12th-class NIOS admissions with a late fee is September 15, 2023–24.
Q. Is NIOS admission open?
Ans. All students who failed the Class 10 or 12 examinations from any recognised board are eligible for enrollment to the NIOS 2023–24 programme.SSCoaching, helps students get complete information about NIOS board (National Institute of Open Schooling) with coaching classes that prepare students for clearing nios exams.
Q. What is NIOS syllabus?
Ans. The National Institute of Open Schooling (NIOS) offers a wide range of courses at the secondary (10th) and senior secondary (12th) levels.The syllabus covers subjects like Mathematics, Science, Social Science, English, Hindi, Economics, Business Studies, Accountancy, Computer Science, and many more.
Q. What is the minimum marks for NIOS exam?
Ans. To be considered successful in the NIOS Class 10 examinations, Students must receive a minimum of 33% in the NIOS examination (separately in theory and practicals in courses having both, as well as in aggregate).
Q. What is the cycle of NIOS admission?
Ans. NIOS admission follows two cycles, Block-I (the first cycle) April/May and Block-II (the second cycle) October/November. Students can apply online, submit required documents, and complete the admission process during these admission cycles.
---