What is the top 20 percentile of indian boards for IIT ?
1. What is Normalisation and top 20 percentile of NIOS Board?
Most of the NIOS Main aspirants must be aware of the fact that NIOS Main Rank List is prepared after finding a composite score of NIOS Main scores and Normalized Marks of Class XII in the ratio of 6O:40. But very few know what actually is this normalization procedure and how nromalised score for class XII results are calculated. JEE Main Merit Ranks form the basis of the admissions to undergraduate engineering courses at prestigious 31 NITs, 18 IIITs, 18 GFTIs and many other engineering institutions across India.
2. Normalisation Process requires us to know the following
Percentile Score -
A Percentile score is the value of below which a certain Percent of observations fall. For example, the 20th Percentile is the value (or score) below which 20 Percent of the observations may be found.
Comparison of top 20 Percentile in IIT-JEE 2014 of the Three National boards
Sl. No.

Board

GE

OBC -NCL

SC

ST

PwD

Total

1

(NIOS) National Institute Of Open Schooling

315

(63%)

311

(62.2%)

297

(59.4%)

282

(56.4%)

282

(56.4%)

500

2

(CBSE) Central Board Of Secondary Education

416

(83.2%)

410

(82%)

370

(74%)

366

(73.2%)

366

(73.2%)

500

3

(ISC) Council For The Indian School Certificate Examinations

425

(85%)

410

(82%)

404

(80.8%)

362

(72.4%)

362

(72.4%)

500
To Improve Your Class 12th Percentage For IIT-JEE Please CALL at 9839065533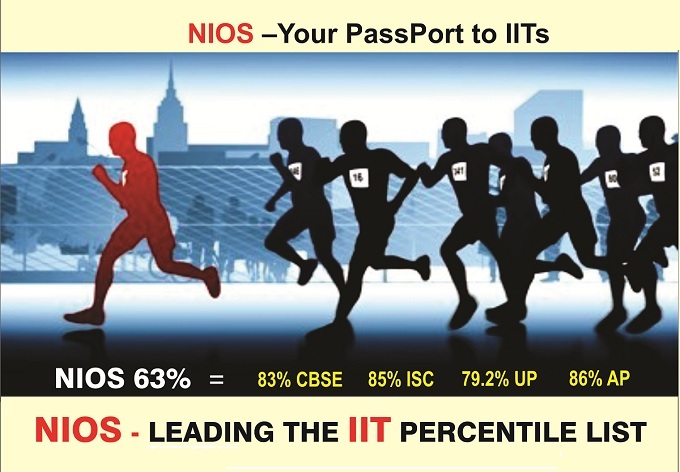 For any help related to admission in NIOS please contact SS Coaching @
on our Toll-Free No.
1800-120-6077
Cut-off Marks for TOP 20 Percentile of all Boards for IIT in the Year 2014
Sl. No.

Board

GE

OBC -NCL

SC

ST

PWD

Total

1

Andhra Pradesh Board Of Intermediate Education

(Based On Class-XII Marks Only)

430

393

373

364

364

500

492

503

464

463

463

530

521

502

482

479

479

560

Andhra Pradesh Board Of

Intermediate Education

(Based On Class-Xi And Xii Marks)

550

519

483

532

483

800

920

867

810

807

807

1000

2

Assam Higher Secondary Education Council

292

294

278

238

238

500

3

Bihar Intermediate Education Council (Bihar School Examination Board)

304

300

301

300

300

500

4

Central Board Of Secondary Education

416

410

370

366

366

500

5

Chattisgarh Madhyamik Shiksha

Mandal (Chattisgarh Board Of

Secondary Education)

325

302

289

276

276

500

6

Council For The Indian School Certificate Examinations (Icse)

425

410

404

362

362

500

7

Goa Board Of Secondary And Higher Secondary Education

360

352

336

325

325

500

511

502

487

499

487

700

8

Gujarat Secondary Education Board

406

388

382

334

334

600

471

443

434

394

394

650

545

511

504

459

459

700

9

Haryana Board Of Education

383

374

353

351

351

500

10

H P Board Of School Education

348

334

332

335

332

500

579

565

590

545

545

800

11

J & K State Board Of School Education

378

378

378

378

378

500

12

Jharkhand Academic Council

285

288

274

277

274

500

13

Karnataka Board Of Pre University Education

465

444

420

425

425

500

14

Kerala Board Of Public Examinations

830

732

746

721

721

1000

15

Madhya Pradesh Board Of Secondary Education

367

346

334

318

318

500

16

Maharastra State Board Of

Secondary And Higher Secondary

Education

362

340

333

327

327

500

461

437

415

405

405

600

17

Manipur Council Of Higher Secondary Education

363

364

346

334

334

500

18

Meghalaya Board Of Secondary Education

291

269

279

261

261

500

19

Mizoram Board Of School Education

333

363

338

294

294

500

20

Nagaland Board Of School Education

319

338

308

286

286

500

21

Odisha Council Of Higher Secondary Education

378

378

353

331

331

500

22

Punjab School Education Board

295

291

279

261

261

375

320

321

314

341

314

420

334

330

315

317

315

450

396

392

386

386

386

475

23

Rajasthan Board Of Secondary Education

345

341

325

383

325

500

24

Tamil Nadu Board Of Higher Secondary Education

917

820

719

695

695

1000

25

Tripura Board Of Secondary Education

255

-

241

214

214

500

26

U P Board Of High School And Intermediate Education

396

387

373

375

373

500

27

Uttaranchal Shiksha Evam Pariksha Parishad

324

309

294

300

294

500

28

West Bengal Council Of Higher Secondary Education

308

303

271

237

271

500

29

National Institute Of Open Schooling

315

311

297

282

282

500

30

Jamia Milia Islamia, New Delhi

395

395

395

395

395

500

31

Aligarh Muslim University, Aligarh

316

316

316

316

316

500

Cut-off marks for top 20 Percentile of successful candidates in various categories as per the data provided by various Boards in Year 2013
S.No.

Board Name

GE

OBC

SC

ST

Maximum Marks

1.

ANDHRA PRADESH

459

434

408

412

500

487

460

432

437

530

514

486

457

461

560

2.

ASSAM

283

284

271

229

500

3.

BIHAR

325

322

309

311

500

4.

CBSE

408

401

361

356

500

5.

CHATTISGARH

338

314

301

288

500

6.

GOA

355

340

324

338

500

497

476

454

473

700

7.

GUJARAT

430

403

396

358

600

465

437

429

387

650

501

470

462

417

700

8.

HARYANA

379

369

354

343

500

9.

HIMACHAL PRADESH

340

329

328

327

500

544

526

525

523

800

10.

ISC

416

394

375

344

500

11.

JAMMU & KASHMIR

369

369

369

369

500

12.

JHARKHAND

281

277

270

272

500

13.

KARNATAKA

430

394

362

367

500

14.

KERALA

852

808

736

722

1000

15.

MADHYA PRADESH

360

341

331

314

500

16.

MAHARASHTRA

341

330

322

315

500

409

396

386

378

600

17.

MANIPUR

367

374

342

335

500

18.

MEGHALAYA

305

314

294

273

500

19.

MIZORAM

380

328

247

277

500

20.

NAGALAND

299

311

294

267

500

21.

NATIONAL OPEN SCHOOL

305

306

286

271

500

22.

ORISSA

401

401

365

355

600

23.

PUNJAB

331

330

316

301

450

349

348

334

318

475

736

733

702

669

1000

24.

RAJASTHAN

338

334

321

316

500

25.

TAMIL NADU

909

807

710

697

1000

26.

TRIPURA

268

268

248

221

500

27.

UTTAR PRADESH

365

358

346

347

500

28.

UTTARAKHAND

289

285

273

271

500

29.

WEST BENGAL

306

301

272

241

500
---