10th & 12th Board Examination Preparation ICSE CBSE NIOS Tips
Tutor: SS Coaching team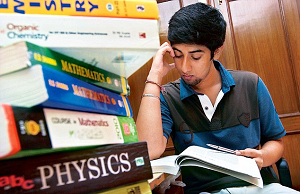 We all know that Board Examination are very important in life which have a big hand in decide a students future. So preparation for your 10th or 12th board examination should be done with a lot of precision and planning. Here below we are sharing some important Tips to prepare for 10th 12th Board examination 2014 and 2015.
Start Preparation Early:
The board exam wants hard work, so give you sufficient time to board exam.
You start your preparation as early as possible.
Make a Plan Smartly:
Make a preparation plan by considering the Important Chapters, Exam Pattern and Remaining Time, and follow it strictly.
Time Management: The Time Management is an important factor of human life, so manage the remaining time as perfect way in Board exam.
Night/ Early Morning Study:
You do study in night/ early morning, because in that time anyone will not disturb you.
Know Your Strength and Weakness: The Strength is the positive point of each person. So you need to keep safely of your strength. The Weakness is the negative point of each person, so you need to remove your weakness by given some extra effort.
Use NCERT Books:
The Student uses the NCERT/ Standard Writer books, because in local books came out many mistakes, but in NCERT books doesn't any chance of mistake. because many other boards also use these books like cbse and nios board in perticular.
Take the Healthy Breakfast: To feel energetic in/each day, take the healthy breakfast and take some time out with friends.
Practice: P
ractice is helpful in regularity.
Practice makes a man perfect. So Practice, practice and practice.
Search the Syllabus:
Firstly you search Syllabus of respective Board Exam
Search the Exam Pattern: After that you search the Exam Pattern of respective Board Exam, and start preparation accordingly.
Know About Important Chapters: Check out the syllabus and make a list of important chapters in your scllabus of the board you are going to appear cbse icse or nios. Give some extra time to important chapters as much as you can.
Make the Short Notes: Making short notes of all chapters/ topics. In Short Notes include the formulas and short description of each chapter and describe the topics indiagrams and flow chart format as possible.
Take Advice of Expert: If you are confused in any topic or don't understand any topic, then take advice/ help of expert/ teachers.
Weekly Revision: In the week at list one time revision is necessary. It is helpful to revises the previous study.
Use Previous Year Papers: The student must be needed to use the previous Year Question Papers and solve it. The Previous Year Question papers are helpful to understand the question paper and questions in exam.
Solve Model Test Paper is the best way to examine yourself and for best practice. It also increases speed and accuracy.
Speed and Accuracy: The speed and Accuracy are the important part of Board examination. So you must improve the speed and accuracy by solving the various types of paper, like Previous 10 years Exam Papers, Model Test Papers etc of ICSE NIOS CBSE and ISC. You also give the Online Mock Test on various good websites on the internet.
Thinking to Avoid: At preparation time you must have thinking to avoid. You must avoid to TV, mobile. facebook, Bike, Car etc on preparation time.
Last day of Exam: In the last day of exam student can study by Short Notes and don't read any new topics.
Check the Answer Sheet:
Check the answer sheet again before leave the examination hall. Because if the Answer sheet not fill properly then it will be rejected.After Completion of Exam Paper: After completion of exam checkout the any mistakes, if happened in exam by you, and try to remove that mistake in next exam.
Time before the Exam:
You close the books at list one (1) hour before of exams and feel relaxed, cool and tension free.
Never try to read anything just before the exam begins.
During Exam Time: Before enter in Examination hall you must checkout all things that required in exams (Like Pen, Pencil, Rubber, Sharper, Sketch Pens etc.) Answer of Numerical Question: In numerical questions write the final answer separately in the next line and mark this (Like Math, Physics, Accounts etc. subjects).
Don't Cram:
Understand each topic, because if you cram any topic then you have confused in any topics.
You don't try to cram any topic.
The Answer Sheet should be Neat & Clean: Because if the examiner does not understand your answer responses of any question then, he/ she would reject that questions and give you less or no marks for it. It makes good effect in examiner when you have a tidy looking answersheet.