Career counseling and NIOS board assists students for opting science at senior secondary level
For a student the most critical point in his/her career is the choice of stream at senior secondary level. There are basically tree streams Science, Arts and Commerce. The students must analyze their skills and ability to choose a stream at senior secondary level. They must first have a good look at their secondary level result because it will help them realize their aptitude towards a particular stream. The students should make the decision himself and should not get pressurized by their guardian for choosing a particular stream because it is student who has to study not the guardian and it's his/ her career. The students should also consult a career counselor to know their aptitude towards a particular stream. The career counselor can help the students in solving the jinx of the choice of subjects after closely monitoring the skills and aptitude of the student. A wrong choice at this critical stage of the career can hamper the entire career of that student.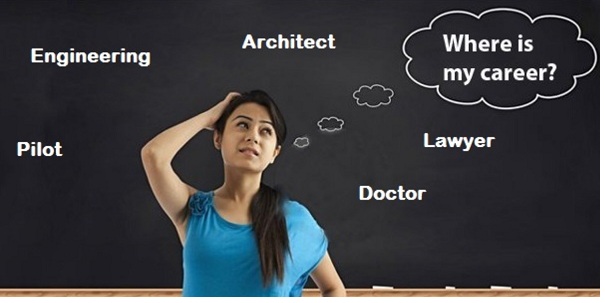 The rising trend these days is that students are opting for science as their stream at senior secondary level the reason being is that it's a gateway stream to two lucrative careers — medicine and engineering. Apart from medicine and engineering it has other career opportunities as well. The three main aspects that a student learns after choosing this stream are thinking analytically, working hard and problem solving.
The experts say, rest assured, for a science student "there will be no shortage of opportunity." This is what the experts say but the real test is of the student to cope with the hard work and dedication it requires .Its the toughest stream and requires sincere dedication.
Aptitude is the key when choosing science in the final two years of school, they say. "The rule here is that if a student is interested in science and technology, then he/ she have no choice but to do science and the good part is that just because the student has decided on a set of subjects in school doesn't mean he/ she has to continue with those for the rest of his/ her life," said career guidance expert Jatin Agarwal
School counselors feel that students should be allowed to make a self-assessment and should be made aware of their strengths and weaknesses to help them set realistic goals. They should not be pressured into making a choice. Jr Phantham school counselor, St Teresa day school lucknow, said, " The utmost priority for a student should be to know his aptitude for particular stream .The students should take aptitude tests to know his/her strength and weaknesses and after knowing it must opt for a stream in which he/she has aptitude for."
The level of difficulty increases drastically as compared to class X. The student should check out the books and syllabus even after taking career counselor aptitude test and advice. If the student will not put in extra efforts and will treat class XII same as class X he will score not more than 60% to 65 %.The main option after opting for science is that the student will appear for IIT and AIPMT which means even more pressure. The continuous increasing pressure can also make the student frustrated and full of anxiety .The anxiety and pressure to score good marks and at the same time preparing to qualify for engineering/medical entrance exams often results in suicide by the student. In order to cope up with this hard work and pressure the students are enrolling them in open schooling these days for senior secondary level
These days students preparing for IIT/CPMT/NDA or any other entrance exam prefer to enroll in NIOS board as they can attend coaching for the preparation of Entrance exam and also give them ample time for self study .The teachers in the coaching institutes for the preparation of entrance exams also advice students to get enrolled in NIOS board as it does not require any criteria for minimum attendance in class failing which he/she will not be allowed to appear in board exams as compared to other regular board.
National Open School is an open and famous new concept in schooling board as a basic education system of India. The open schooling system is increasing day by day in the education trend of India by giving every child of the Nation the chance to study. NIOS passed students have done tremendously good in all major competitive exams of India and abroad like IIT, AIEEE, CPMT, Government jobs post exams and other state and national level competitive exams. In an indication of improving quality of teaching under the National Institute of Open Schooling (NIOS) system, over 1600 learners qualified for the prestigious AIEEE this year and other competitive exams.
Mr Sarvesh Sonkar Founder Director of SS coaching Lucnow Said that these days a lot of students from science stream are enrolling in NIOS Board as they need time for self studies and at the same time need to score good marks in their Senior secondary level .Even the teachers of their entrance exam coaching Institutes are advising them to enroll at NIOS board.
For any help related to admission in NIOS please contact SS Coaching @
on our Toll-Free No.
1800-120-6077