CBSE Class 10th 12th exams from March 2, date sheet declared
Tutor: SS Coaching team
The date sheet for the Class XII Board Examination for the session 2014-15 has been declared by Central Board of Secondary Education (CBSE). The first Class XII examination is English Elective (Subject Code: 001)/ English Core (Subject Code: 301)/ Functional English (Subject Code: 101), to be held on 2 March 2015.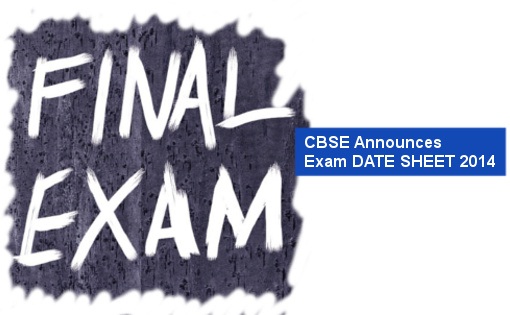 According to the date sheet, the examination will begin from Saturday, 2 March 2015. The last examination of Class XII board is on 2 March 2015.

The long anticipated date sheet for CBSE exam with all the essential details is listed below.
Date sheet of 10th CBSE Board
DATE-SHEET SECONDARY SCHOOL EXAMINATION, 2015

DAY

DATE

TIME

SUBJECT NAME

SUBJECT- CODE

Monday

02 March, 2015

10:30 AM

DYNAMICS RETAIL(O)

INFO TECHNOLOGY(O)

SECURITY(O)

AUTOMOBILE TECH(O)

INTR TO TOURISM(O)

DYNAMICS RETAIL(C)

INFO TECHNOLOGY(C)

SECURITY(C)

AUTOMOBILE TECH(C)

INTR TO TOURISM(C)

401

402

403

404

406

461

462

463

464

466

Tuesday

03rdMarch, 2015

10:30 AM

SCIENCE

SCIENCE W/O PRAC.

086

090

Wednesday

04th March 2015

10:30 AM

TAMIL

TELUGU

FRENCH

N C C

006

007

018

076

Monday

09th March 2015

10:30 AM

PAINTING

SPANISH

049

096

Tuesday

10th March, 2015

10:30 AM

SOCIAL SCIENCE

087

Thursday

12th March, 2015

10:30 AM

HINDI COURSE-A

HINDI COURSE-B

002

085

Saturday

14th March, 2015

10:30 AM

FOUNDATION OF I T

165

Monday

16th March, 2015

10:30 AM

MATHEMATICS

041

Wednesday

18th March, 2015

10:30 AM

CARNATIC MUSIC VOC

CAR. MUSIC MEL INS

CAR.MUSIC PER.INS.

HIND.MUSIC VOCAL

HIND.MUSIC MEL.INS

HIND MUSIC.PER.INS

031

032

033

034

035

036

Thursday

19th March, 2015

10:30 AM

ENGLISH COMM.

ENGLISH LNG & LIT.

101

184

Friday

20thMarch, 2015

10:30 AM

HOME SCIENCE

064

Monday

23rdMarch, 2015

10:30 AM

PUNJABI

BENGALI

MARATHI

MALAYALAM

ODIA

ASSAMESE

KANNADA

ARABIC

GERMAN

004

005

009

012

013

014

015

016

020

Tuesday

24th March, 2015

10:30 AM

URDU COURSE-A

GUJARATI

MANIPURI

TIBETAN

PERSIAN

NEPALI

LIMBOO

LEPCHA

TANGKHUL

JAPANESE

BHUTIA

MIZO

BAHASA MELAYU

COMM. SANSKRIT

URDU COURSE-B

003

010

011

017

023

024

025

026

093

094

095

098

099

122

303

Wednesday

25th March, 2015

10:30 AM

ELEM. OF BUSINESS

ELEM BOOK-K & ACCY

e-TYPEWRITING-ENG

e-TYPEWRITING-HIN

154

254

354

454

Thursday

26th March, 2015

10:30 AM

SINDHI

RUSSIAN

BODO

KASHMIRI

008

021

092

097
Date sheet of 12th CBSE Board
DATE-SHEET SENIOR SCHOOL EXAMINATION,2015 (Revised)

DAY

DATE

TIME

SUBJECT NAME

SUBJECT- CODE

Monday

02nd March, 2015

10:30 AM

ENGLISH ELECTIVE

ENGLISH ELECTIVE-C

ENGLISH CORE

001

101

301

Wednesday

04th March, 2015

10:30 AM

BUSINESS STUDIES

ELE.COST A/C & AUD

BEAUTY & HAIR

CONFECTIONERY

INT.HOSPTLTY MGT

HORTICULTURE

FABRIC STUDY

PRINTED TEXTILE

OP&MNT.OF COMM DEV

054

612

745

752

756

762

774

778

789

Monday

09th March, 2015

10:30 AM

PHYSICS

MARKETING

STORE ACCOUNTING

CASH MGMT & H-KEEP

AC & REFRGTN-III

VEGETABLE CULTURE

B THERAPY&HAIR DES

OPTICS

CLNCL BIO-CHE(MLT)

FUND OF NURSING II

RADIOGRAPHY-GENL

MEAL PLNG & SERVIC

TEXTILE SCIENCE

INDIA-TOURIST DEST

I T SYSTEM

PRIN &PRA-LIFE INS

INT TO FINANCL MKT

C HEALTH NURSING

BAKERY

GARMENT CONSTRCTN

TRAD.INDIAN TEXTLE

ELECTICAL MACHINE

042

613

618

619

632

642

654

658

661

663

667

676

684

693

699

705

723

731

751

776

777

787

Tuesday

10th March, 2015

10:30 AM

HISTORY 027

BIOTECHNOLOGY

ENGG. GRAPHICS

LAB MEDICINES(MLT)

RETAIL SERVICES

LGSTCS,OPER&SUP CH

BUS.OPERTN & ADMN

MARKETING

027

045

046

660

744

750

766

783

Thrusday

12th March, 2015

10:30 AM

CHEMISTRY 043

LENDING OPERATIONS

APPLIED PHYSICS

FLORICULTURE

COSMETIC CHEMISTRY

BIOLOGY-OPTHALMIC

COMM.HEALTH NUR II

RADIATION PHYSICS

DESG & PAT MAKING

DYEING & PRINTING

TRAVEL TRADE MGMT

BUSINESS DATA PROC

COMPUTER& LIFE I A

TPT. SYSTEMS &MGMT

B P O SKILLS

FOOD& BEV C & CNTL

HOLISTIC HEALTH

FLORICULTURE

COST ACCOUNTING

043

620

625

643

655

657

664

666

685

688

694

700

706

712

724

737

746

765

781

Friday

13th March, 2015

10:30 AM

DANCE-KATHAK

DANCE-BHARATNATYAM

DANCE-KUCHIPUDI

DANCE-ODISSI

DANCE-MANIPURI

CR WRTNG TR STUDY

MASS MEDIA STUDIES

NAT. CADET CORPS

SINDHI

OFF. COMMUNICATION

H EDN.COMM&PR&P HL

INF.STORGE&RETRIVL

INTG.TRNSPRT OPER.

FRONT OFF.OPERATNS

TR.AGN.&TOUR OP.B

SALESMANSHIP

TRBL SHT MNT.EL EQ

CAP.MARKET OPRTNS

056

057

058

059

060

069

072

076

108

606

728

748

749

753

757

784

790

793

Saturday

14th March,2015

10:30 AM

HINDI ELECTIVE

TAMIL

GUJARATI

MALAYALAM

ASSAMESE

TIBETAN

PERSIAN

NEPALI

LIMBOO

LEPCHA

TANGKHUL

JAPANESE

BHUTIA

BHASA MELAYU

HINDI CORE

002

106

110

112

114

117

123

124

125

126

193

194

195

199

302

Monday

16th March, 2015

10:30 AM

FASHION STUDIES

AGRICULTURE

THEATRE STUDIES

ODIA

GERMAN

SHORTHAND ENGLISH

SHORTHAND HINDI

MGMT OF BANK OFFCE

ENGINEERING SCI.

POST HARV TECH&PRS

YOGA ANATOMY &PHYS

CLOTHING CONST

TOUR MGMT & MP PLN

DTP CAD & MULTIMED

BANKING

053

068

078

113

120

608

610

621

622

644

656

686

695

701

785

Tuesday

17th March, 2015

10:30 AM

CARNATIC MUSIC VOC

CAR.MUSIC INS(MEL)

CAR.MUSIC MRIDANGM

HIND.MUSIC VOCAL

HIND.MUSIC MEL.INS

HIND MUSIC.INS.PER

MAT&CHILD H.NUR II

031

032

033

034

035

036

665

Wednesday

18th March 2015

10:30 AM

MATHEMATICS

SECY.PRAC & ACCNTG

OPHTHALMIC TECH.

MICROBIOLOGY

RADIOGRAPHY-SPL

F.AID& EMER.M.CARE

HEALTH CENTRE MGMT

C BIO-CHEM & M BIO

041

605

659

662

668

730

733

742

Friday

20th March, 2015

10:30 AM

ECONOMICS

TEXTILE CHEM.PROC

ELECTCL. APPLIANCE

030

779

788

Monday

23rd March, 2015

10:30 AM

BIOLOGY

AC & REFRGTN-IV

BASIC DESIGN

TAXATION

DERIVATIV MKT OPER

044

633

687

782

794

Tuesday

24th March, 2015

10:30 AM

POLITICAL SCIENCE

LAB MEDICINES

RETAIL OPERATIONS

FIN. ACCOUNTING

028

741

743

780

Wednesday

25th March, 2015

10:30 AM

URDU ELECTIVE

PUNJABI

MANIPURI

KANNADA

URDU CORE

003

104

111

115

303

Thursday

26th March, 2015

10:30 AM

HOME SCIENCE

064

Friday

27th March, 2015

10:30 AM

INFORMATICS PRAC.

COMPUTER SCIENCE

ADV.FR.OFF OPERTNS

OLERICULTURE

BASIC PATTERN DEV.

INSURANCE

065

083

754

763

775

786

Monday

30th March, 2015

10:30 AM

PHYSICAL EDUCATION

048

Tuesday

31th March, 2015

10:30 AM

SOCIOLOGY

GRAPHIC DESIGN

039

071

Wednesday

01st April, 2015

10:30 AM

MULTIMEDIA & WEB T

TYPOGRAPHY &CA ENG

TYPOGRAPHY &CA HIN

AUTOSHOP REPR&PRAC

CRTV &COM.PROC M M

067

607

609

628

739

Monday

06th April, 2015

10:30 AM

ACCOUNTANCY

055

Tuesday

07th April, 2015

10:30 AM

PHILOSOPHY

ENTREPRENEURSHIP

OFFCE PROC.& PRAC.

B CONCEPT-H &MED T

MIDWIFERY

FOOD SERVICE

GEOSPATIAL TECH

040

066

604

729

732

736

740

Wednesday

08th April, 2015

10:30 AM

GEOGRAPHY

LIB.SYS & RES.MGT

029

747

Thursday

09th April, 2015

10:30 AM

SANSKRIT ELECTIVE

BENGALI

TELUGU

MARATHI

ARABIC

FRENCH

MIZO

SANSKRIT CORE

AUTO ENGINEERING

EVOL & FORMS M M

022

105

107

109

116

118

198

322

627

738

Monday

13th April, 2015

10:30 AM

HUMAN RIGHTS & G S

FOOD PRODUCTION IV

DATA MGMT APPLCTN

075

735

795

Thursday

16th April, 2015

10:30 AM

FOOD PRODUCTIONIII

WEB APPLICATIONS

734

796

Friday

17th April, 2015

10:30 AM

LEGAL STUDIES

074

Saturday

18th April, 2015

10:30 AM

PAINTING

GRAPHICS

SCULPTURE

APP/COMMERCIAL ART

049

050

051

052

Monday

20th April,2015

10:30 AM

PSYCHOLOGY

037
For any help related to admission in NIOS please contact SS Coaching @ on our Toll-Free No. 1800-120-6077