Students of Dubai UAE can easily pass with admission in NIOS indian Degree Certificate
Training Coaching is available for NIOS (National Institute of Open Schooling) for United Arab Emirates students residing in Dubai, Ajman, Sharjah, Abu Dhabi for X, XI, XII students who didn't had the chance to do their regular school coaching and making them capable for Higher Education. We hope that the large number of Indian expatriates employed in skill-based sectors in the three cities of Sharjah, Abu Dhabi and Dubai, which constitute the United Arab Emirates, will turn to it for acquiring the secondary and senior secondary school (Class 10 & 12) certificate of open school education.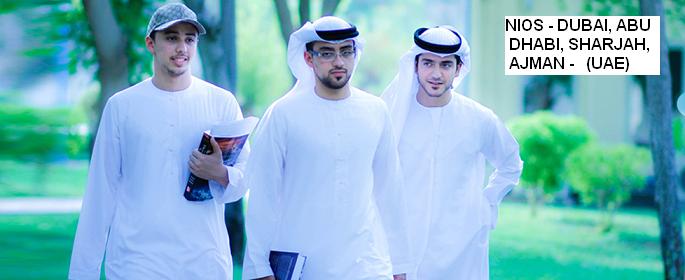 The National Institute of Open Schooling is looking for an increased clientele in west Asian countries and mostly arab world for students. This is also important because a lot of professionals have to relocate to new destinations for work which greatly hampers the education of their children, joining A new school for a student is never so easy As one might Assume.
It is mandatory for a person has to be matriculate to be be eligible for employment in the UAE. Rough estimates by the NIOS indicate that there are almost thousand who have to upgrade their degree for good employment opportunities and is a strong population in need of this certification. The NIOS to give admission to more and more students in the future from UAE as it is the most desirable form of education for the expatriates living abroad like in USA, UK, Australia or any other foreign country. The NIOS also has centres in Canada and Nepal offering both levels where as the centre in the United States of America offers life enrichment courses.
The present student base is about 9,000. The number of students at the secondary stage increased from 809 in 2011 to 1208 in 2014. Presently the NIOS has seven institutes in middle east countries including five in the UAE, and one each in Sultanate of Oman and Kuwait, where it offers both secondary and senior secondary level courses. But there are a larger number of coaching as well, One such is that of ours as SS COACHING which has acquired tremendous amount of expertise and professionalism to cater the needs of an appearing nios learner.
Meanwhile, the efforts to adapt itself to the needs of the non resident Indians in that region have already begun and we know this that how important it is for pupil to grab a degree to move ahead in life. Since most of the people living in Dubai belong from Kerala, but there are others who belong to other states in great population like Uttar Pradesh, Maharashtra and Karnataka.
Besides this, the NIOS is experimenting with the Examination on Demand (ODE) system at the open basic education stage. If successful, the NIOS plans to take it to the Middle East centres at the secondary level. As per the system, a student will be able to walk in and take an examination whenever he/she feels prepared for it. There is a large number of Indians which feel they have lost touch with their roots. NIOS is therefore planning to offer courses on Bhartiya culture and heritage to provide them a basic direction. The NIOS also has a mission and has plans to promote Indian languages, culture and heritage which generally other NRI's cannot see in their lives. It has undertaken the development of language learning aids where an Indian language can be taught through English.
For any help related to admission in NIOS please contact SS Coaching @
on our Toll-Free No.
1800-120-6077