Sudden accretion in students for commerce as a subject for class XI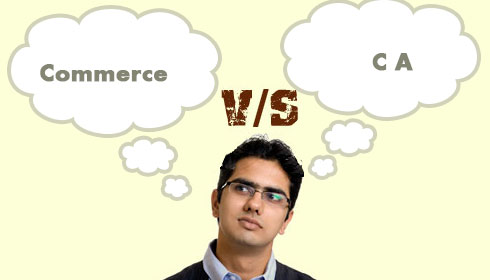 The latest trend that's catching up with students in choosing subjects for class XI subjects has led to reduction of science seats and increment of commerce seats in schools. The trend that prevailed earlier was that students preferred science over commerce as they thought it to be more lucrative career wise. The inclination towards commerce is so much that even some of the brightest students are preferring it over science .The career opportunities have increased in commerce trade by leaps and bounds.
One of the reason given by students for preference of science over commerce as it is not as touch a subject to study so it does not demand too much time and dedication but still have great career opportunities. With so many engineering colleges opening every year the number of engineers has increased significantly which has increased the competition for job. Similarly there are so many private medical colleges opening which are authorized to teach MBBS to students this makes thousands of doctors passing every year the but job opportunities are decreasing as the number of doctors is increasing .The only option left for them is to perform private practice which will not work well as the patients prefer doctors who work at a recognized hospital.
The commerce stream is good for those students who have an aptitude for creativity and innovation for value addition in terms of product and services. Commerce is a very lucrative choice. With a wide variety of opportunities from finance to accounting and management are open for them. Students prefer a combination of commerce with math's as a choice of subject in class XI. The commerce student can even do BCA (Bachelor of Computer Application) or can do MCA after B.com which gives the student an edge above the rest as he will be masters in computer with sound knowledge of commerce.
The students are enrolling themselves at NIOS board in large numbers as it gives tem opportunity to study from home and gain experience by working. This working experience gives them an edge above other students when they appear in interview for MBA admission of for a job interview. A person with a work experience is always preferred over a fresher. The NIOS board syllabus is designed by NCERT (National Council of Education Research and Training) so it is as competent and up to date syllabus as any other recognized education board in India. The NIOS board never want its students to feel the burden of studies so it has come up with a unique idea that the student can appear to a maximum of 4 subjects of his choice for board exam in his class XI if he feels prepared for the subjects and can appear for the remaining subjects next year at senior secondary level. The certificate will only be issues when the student completes his senior secondary exams by passing in the minimum required subjects to get a pass certificate.
For any help related to admission in NIOS please contact SS Coaching @
on our Toll-Free No.
1800-120-6077