War between indian 10th 12th Boards CBSE, ICSE, NIOS?
Tutor: SS Coaching team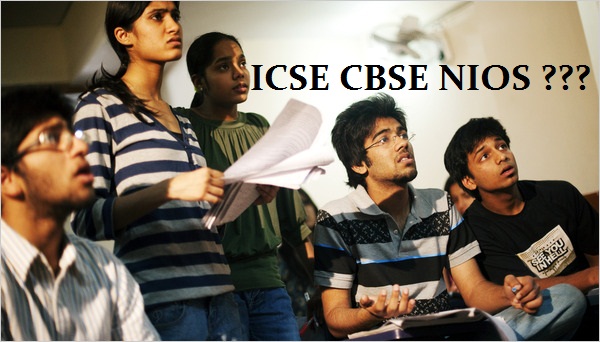 In India right from the moment a child is born, somewhere lodged at the back of the mind of parents is the question – which school should I send my child to? When the child attains two years of age, the parents are indecisive about the board. The most common dilemma for parents opting for English Medium is CBSE, ICSE or NIOS open schooling? As this choice would make a significant difference in the early as well as later stage of his or her education, this question is not a simple one. Since the boards are very different, changing midway is also not a good idea. So it is always advisable that parents critically evaluate all boards before they send their child to school or opt for open system of schooling.
The comparison between the these boards can be done on the basis of functionalities, abilities and other standards.
Now, CBSE is one of the most preferred boards in our country as it follows the national curriculum framework with additional subject matter. In fact it is a board that is recognised by the NCERT (National Council of Educational Research and Training) and the schools affiliated to this board follow NCERT prescribed textbooks too. It is also regarded to be good for people with transferable jobs as getting admission for their children in a new school is easier. Now even a large number of private schools are offering CBSE to cater to private sector employees who are part of the migrant population. Another advantage is that the CBSE curriculum is well structured and controlled. Therefore, all the national entrance examinations are based on this syllabus.
ICSE is also offered by several schools across India, although down south the number decreases. The examinations are on a similar model as CBSE with a very tough syllabus comparatively. It is considered to be the toughest board examination to crack because of the detailed syllabus.
The NIOS has been in existence for over 25 years now. It offers a national board examination at two levels: higher secondary and secondary.The higher or senior secondary level is equivalent to the other 12 board examinations. Many (not all) boards,universities, and institutions throughtout India recognize the NIOS certification for progressing to higher education in one's life; these are listed in great detail in the NIOS prospectus.The secondary level is equivalent to the ICSE, CBSE, SSC, and other national or state Standard 10 board examinations. However, as those who could not attend regular school may not have the opportunity to attend regular college either, the Indira Gandhi National Open University (IGNOU) may be an opportunity for these students to complete their further studies who pass Senior Secondary certificate from NIOS Board.
Let us try to see the major differences between the three:
In CBSE the medium of instruction is English or Hindi, as opted by the school. ICSE offers only English as the medium whereas NIOS in many different languages.
CBSE has a large number of schools affiliated to it all across India. Apart from the regular candidates who are school goers and write the boards, CBSE allows even private candidates from non-affiliated schools to appear for the board exams. ICSE does not allow this and allows only those in ICSE schools to write the boards.
CBSE has a better worldwide recognition so has NIOS Board where students get enrolled from other counties as well. They have a better footing in the subcontinent as compared to ICSE. In fact many foreign education systems recognize CBSE and NIOS but do not give that accreditation to ICSE.
The CBSE and NIOS syllabus is suitable for various entrance examinations that include professional courses.NIOS feature of Open schooling gives much relief to students who are concentrating more on Entrance Exams like JEE, the all India exam for engineering entrance, is designed and administered by CBSE. CBSE is more objective knowledge and ICSE is subjective. CBSE is very focused on Science and Maths with application based knowledge. ICSE is more focused on elaborate knowledge encompassing all subjects. Nios has a big span of subjects to choose from so the knowledge is not limited to specific field.
In CBSE a child is assesses throughout the year and test scores are based on projects, practicals along with academic tests. Even the extra-curricular activities are given weightage while calculation of scores. So, even a mediocre child can get good grades if he or she is good in sports. The Continuous and Comprehensive Evaluation or CCE method that has been adopted by CBSE focuses on the all round assessment of the child.
CBSE schools are more in number so getting admission in a school following CBSE board is easier. In NIOS you can get admitted by enrolling into a coaching that helps you fill form and arrange classes to meet the expectations of the NIOS Board. It is easier to get admission in NIOS when one moves to a new place compared to ICSE. Scoring is easier in CBSE and more easier in NIOS as the questions are more objective and not as detailed as ICSE. More practical knowledge is gained in CBSE as the knowledge is application based. And of course, all entrance examinations held on a national basis are based on the CBSE syllabus and NIOS syallabus is also designed keeping in mind the CBSE syllabus and so more students from this board clear them and go to the premier institutes.