Is the candidate allowed to apply for re-evaluation of answer sheet in case the result is not as per the expectation?
There is no re-evaluation or scrutiny for the Secondary Examinations. But you can know more of other alternatives by calling SS Coaching nios lucknow, on 9792111121. The National Institute of Open Schooling has introduced the re-evaluation of answer sheets at the Senior Secondary level. This will be in addition to the already existing system of scrutiny/re-totaling of marks for Secondary and Senior Secondary levels. Candidates who have appeared for the Sr. Secondary exams of NIOS nios lucknow in April-May or after can apply for re-evaluation of answer sheets in theory paper of any subject. There is no provision and procedure for re-evaluation in Practical exams.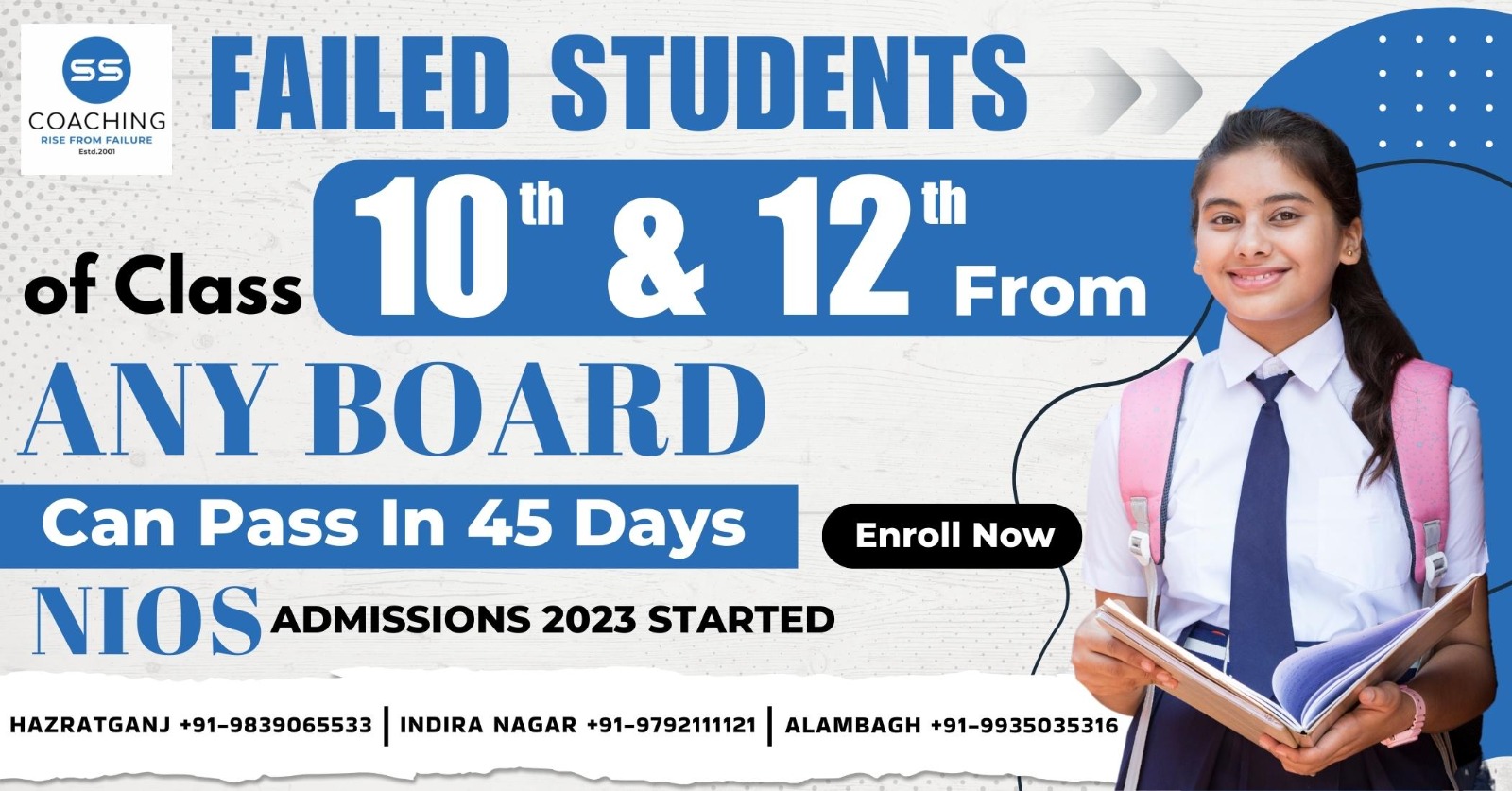 Candidates can apply for re-evaluation for one or more than one subject through a single application. No second request for re-evaluation will be accepted. The application for re-evaluation is sent by registered post or speed post only to the concerned Regional Centre. The processing fee is to be submitted through bank draft drawn in favor of Secretary, NIOS payable at the city of the concerned Regional Centre. Candidates must apply for re-evaluation in their own handwriting within 15 days from the date of declaration of results. Incomplete applications and those received after the last date of submission will not be taken care of and will be rejected without any prior notice. The communication regarding the re-evaluation result shall be sent to the candidate within a period of 60 days from the date of receipt of application.
As the Class X and Class XII NIOS Board examinations results get declared, many students go for revaluation and re-examination marks. An increasing number of students avail themselves of these post-examination assessment procedures which can make their claim for good marks. Teachers scrutinize the answer script for revaluation, in comparison to initial evaluation which is done by one examiner. Generally around 10,000 students would apply for revaluation, while 1,000 for recounting. In today's competitive world where every mark counts, teachers and parents encourage students to apply for the process if they are confident. In Uttar Pradesh and Bihar, any good students who were confident of their exam performance went for evaluation.
Jyoti was happy with her total in Class XII examination, yet she applied for revaluation, hoping to see her score increase more as every marks counts. Teachers who are called in for the revaluation process say a majority of answer scripts they come across are of students who have scored above 90 per cent in a particular subject. But, not all revaluation papers should see an increase in marks. Teachers say students should apply for revaluation only if they are confident that they have performed well. Some even say it is worth applying only if the difference in margin is above 10 marks. An ideal examination system should not give any choice for revaluation or recounting but human error is possible when there are several lakh students appearing for an examination. It is possible for a good student to score low marks. There is greater awareness for reassessment of answer scripts even at degree level as students have become more conscious for the hard work they put.
SSCoaching NIOS school in lucknow, helps students get complete information about NIOS board (National Institute of Open Schooling) with coaching classes that prepare students for clearing nios exams, syllabus and tuition for 10th & 12th students of NIOS Board by qualified staff and trainers who have a decades experience of nios curriculum. SS Coaching NIOS school in lucknow, also helps in form filling for admissions in each stream (stream 1, stream 2, stream 3 & 4) of NIOS Board for 10th and 12th admission seekers.
FAQ's
Q1. Is it good to apply for revaluation?
Ans.
If you have doubts about your NIOS result, you can apply for revaluation. Revaluation can be a good option if you are confident that there has been a mistake in your evaluation or if you believe your answers were not checked properly.
Q2. How many marks will increase in revaluation?
Ans.
The marks that can increase in the revaluation process depend on the correctness of the initial evaluation. It is possible that the marks could remain the same, increase, or even decrease after revaluation.
Q3. How many days it will take for revaluation?
Ans.
The duration for the revaluation process is 2-21 Days applying for re-scoring. Generally, it takes 28 days to complete the revaluation process, and the revised results are usually published on the board's official website.
Q4. Will I get refund for revaluation?
Ans.
Yes, you can get a refund for revaluation if there is an increase in your marks after the revaluation process. The refund policy may vary depending on the specific guidelines of the education board or institution offering the revaluation service.
Q5. Can we cancel the revaluation?
Ans.
Yes, it is possible to cancel a revaluation request. However, the rules and regulations regarding cancellation may vary depending on the educational board or institution. It is advisable to contact the respective authority to know about the cancellation process and whether or not a refund is possible.
---