Do you think coaching classes are helpful in passing NIOS Exams?
Coaching institutes help you till an extent as they give you study material, practice papers, etc. Moreover the faculty at coaching institutes is friendly and very experienced. However, how you perform in exams actually depend on your own efforts. Self study, practice and dedication are three keys to achieve success. If one is sincere and hardworking and can grab concepts from the books, then going in for a correspondence course isn't a bad idea. These courses are much cheaper than regular courses and provide all the necessary material to go about the preparation.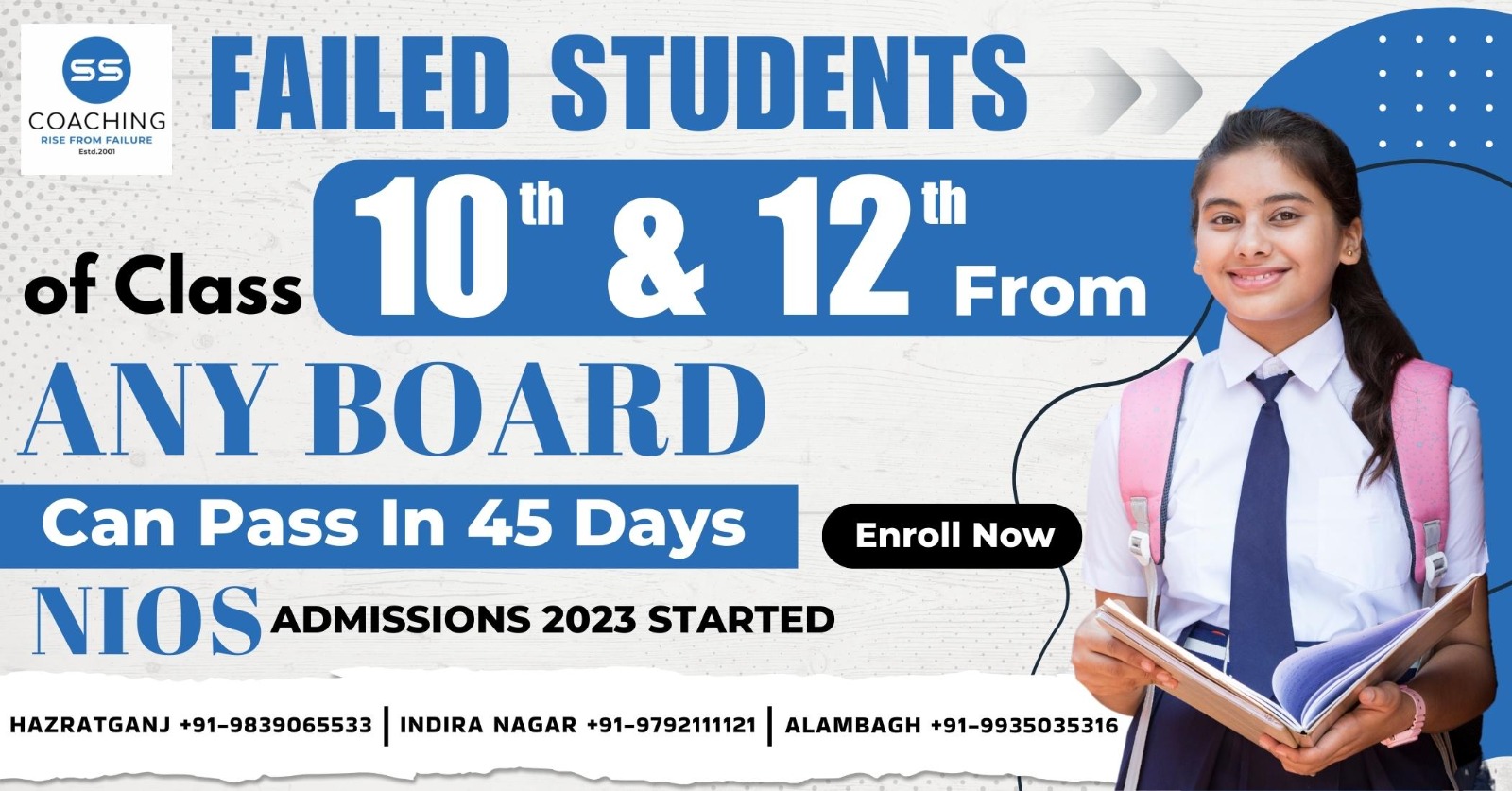 With the increase in competition, coaching centers have got a big boost. One can find coaching centers in every nook and corner of a popular city like Delhi these days. Teachers and parents have equally promoted their growth and a large number of students throng these coaching centers each year to fulfill their dream of entering a prestigious college. In the era of cut-throat competition, coaching centers have become a necessity. Joining a coaching center should certainly be one of the top priorities for passing and getting good marks in NIOS exam is the primary goal. But the most important thing is to analyze one's ability before jumping on to the bandwagon. You need to ask yourself the question, whether you will be able to cope up with the simultaneous pressure of preparing for entrance exams along with board exams?
SS Coaching

NIOS lucknow centre,
also guides to fill the form for online admissions in all streams of NIOS Board for 10th and 12th students. Sscoaching provides the information about NIOS board (National Institute of Open Schooling) as well as coaching classes, syllabus and tuition for 10th (secondary) & 12th (senior secondary) students of NIOS Board by renowned and highly qualified faculty and staff.
The National Institute of Open Schooling (NIOS) is becoming the preferred choice for studies till Std XII, but later it has a few takers. It is estimated that almost 90% of NIOS students join a reputed coaching for getting good guidance for board preparation. A Nios school principal said, "No wonder students flock to the NIOS (Govt. recognized Board) because they don't have to attend classes at all as it is an open school and in the meantime or due course. The attitude with this board is students get a chance to concentrate on their coaching for either engineering or medical stream." But the NIOS does offer a comprehensive and competent curriculum in Std XI-XII, which helps students prepare for competitive exams. Given the fact that the NOS is in charge of conducting big ticket entrance exams like the National Eligibility cum Entrance Test (NEET-UG) and Joint Entrance Exam (JEE), it would seem to make more sense for students to enroll in this board.
Alisha Motwani recently cleared her Std XII nos exam and feels the curriculum is really easy when compared to that of the state board. "nios is very easy also because the school authorities are more disciplined and you have to be a part of the open schooling system which gives students ample amount to prepare of other entrance exams. However, this is true that NIOS board gives students too much freedom and independence to score better in competitive exams. NIOS curriculum may help you prepare better but you still have to join coaching classes as they teach you how to approach these exams.
SS Coaching
NIOS lucknow centre,
not only provide professional teachers but also the necessary material required for preparation to learners with previous year question papers, regular tests, study material, school environment, experienced subject teachers and important updates and procedures about taking admission and passing with good marks in NIOS Board. The coaching provides a competitive environment to study. Regular exams are conducted by them to help the students evaluate themselves on a regular basis. Choosing the right institute is of prime important and the decision should not be taken in haste. Talk to the students already studying in the SS Coaching
NIOS lucknow centre,
about the quality of education that is being provided to them as well as their current satisfaction level.
SSCoaching
NIOS lucknow centre
, helps students get complete information about NIOS board (National Institute of Open Schooling) with coaching classes that prepare students for clearing nios exams, syllabus and tuition for 10th & 12th students of NIOS Board by qualified staff and trainers who have a decades experience of nios curriculum. SS Coaching
NIOS lucknow centre
, also helps in form filling for admissions in each stream (
stream 1, stream 2, stream 3 & 4
) of NIOS Board for 10th and 12th admission seekers.
---