How diverse is NIOS from any other regular Institution or school?
NIOS or National Institute of Open Schooling follows learner centric approach of teaching through distance education. It offers a wide range of subjects in comparison to any other formal and regular institution. The failed students from other boards are independent to choose subject combination as per their desires and interest. Failed students or distance learners are also given the facility to come and learn in our coaching on all weekdays except Sundays. There is a provision of credit accumulation. The registration of the student is valid for the duration of five years. SSCoaching provides the information about NIOS board (National Institute of Open Schooling) as well as coaching classes, syllabus and tuition for 10th (secondary) & 12th (senior secondary) students of NIOS Board by renowned and highly qualified faculty and staff. SS Coaching also guides to fill the form for online admissions in all streams of NIOS Board for 10th and 12th students.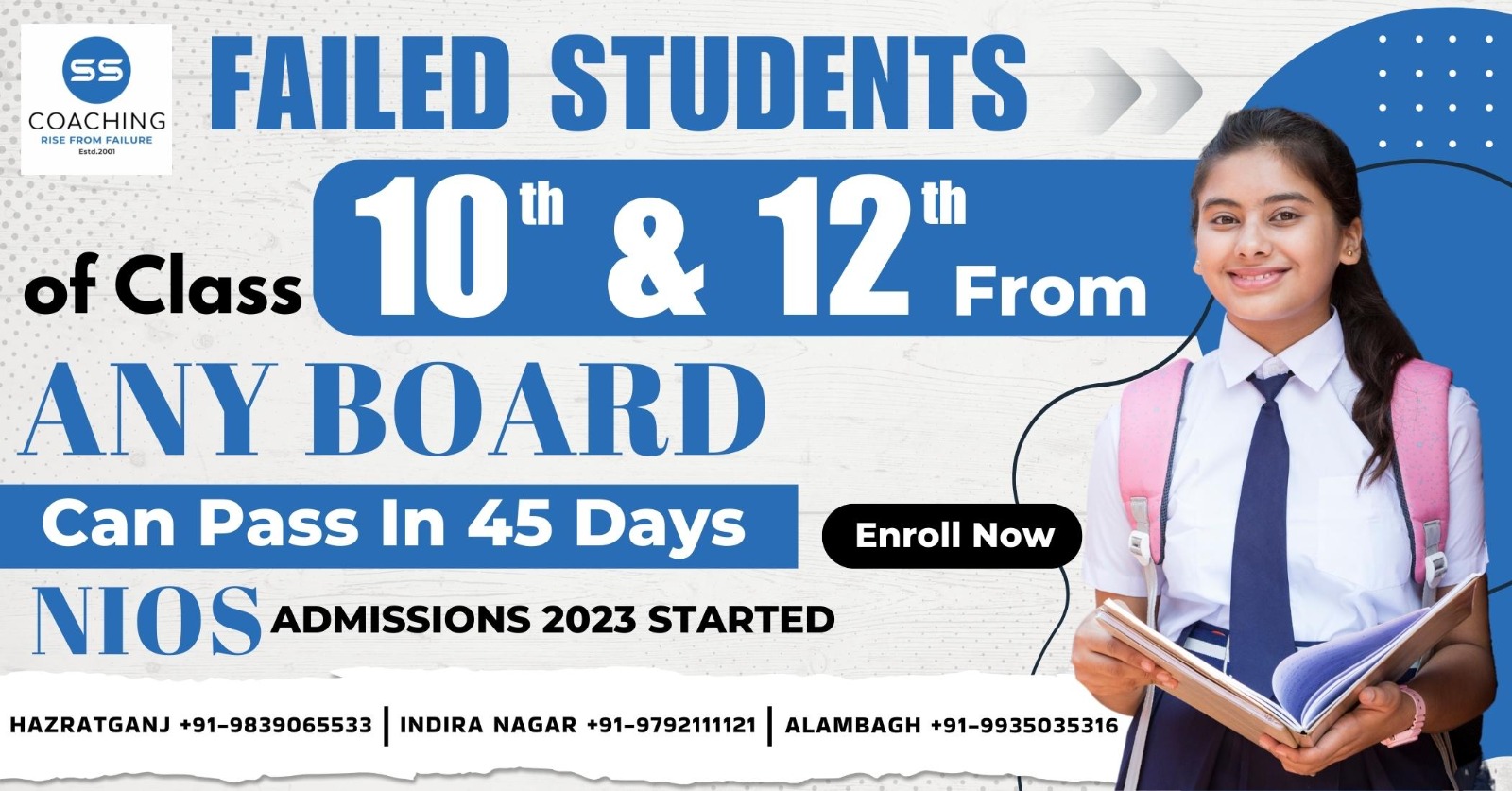 Normally what guardians think is that the value of open schooling is unlike a Regular school education but it is a complete misconception. Almost 75 percent of the Universities and colleges in India have recognition and acceptance National Institute of Open Schooling's senior secondary school course for admission. NIOS is equivalent to other boards like ICSE and CBSE. The only difference is that it is open schooling as compared to the regular classroom attendance that other boards have. It is recognized at the same level. The aim of the National Institute of Open Schooling (NOS) is to encourage and benefit the students to continue their education who have dropped out of regular educational system for poor economic state and inability to study. They can take secondary and senior secondary examination without having to worry about attending any regular school. NIOS student can select any five subjects. NOS therefore open the doors of new opportunities for these children.
Open education is adjustable to the needs of an individual special child who wishes learning like others. In it non competitive Rat race for marks is eliminated. So are extra tuitions, extra homework, frustration that results humiliation. With the help of open education special child can 'enjoy learning' and have confidence to meet the career challenges in future.
National institute of open schooling has given us this opportunity to bring smiles on the faces of failed children and their parents. NIOS is a statutory body established by Human Resource ministry of Government of India It is like CBSE, ICSE or SSC board. It is established for children who cannot attend formal school or have failed in their board exams.
NIOS board basic education offers 3rd ,5th ,8th standard courses. The 10th and 12th examinations conducted by NIOS are at Indian level. NIOS has special programmes for handicapped, failures and disadvantaged. That is the truly a revolution. He can pass 10th & 12th without Math's, science and English. 60 percent children fail in S.S.C., H.S.C. All of them fail in these three subjects only. Students have freedom to choose his subjects. A small businessman, trader, service provider, singer, photographer, electrician, plumber, building contractor, hotel owner, farmer, sports person needs to pass 12th, need not get stuck up with mathematics, physics, chemistry and english. But he needs to be a graduate. Open education has opened the gates for him. Subjects like typing, word processing, business studies are useful for life. Five subjects option, credit accumulation facility, direct registration facility all are extremely useful concepts. The disability sector needs to revise it's orientation and fit their curriculum in NIOS format. At SS Coaching
NIOS center Lucknow,
we have done just that.
SSCoaching NIOS center Lucknow, helps students get complete information about NIOS board (National Institute of Open Schooling) with coaching classes that prepare students for clearing nios exams, syllabus and tuition for 10th & 12th students of NIOS Board by qualified staff and trainers who have a decades experience of nios curriculum. SS Coaching NIOS center Lucknow, also helps in form filling for admissions in each stream (stream 1, stream 2, stream 3 & 4) of NIOS Board for 10th and 12th admission seekers. If you are seeking Nios Admission, SS Coaching NIOS center Lucknow can guide you with the admission process for all streams of NIOS Board.
---