What are the Flexibility offered in NIOS ?
Learning at one's own pace, self explanatory curriculum and a choice of subjects are key to the open school system. The NIOS has many study centers in the country which educate millions of Students to succeed. The open school examination is usually preferred by Army personable who wish to study in the Hindi medium, students who got failed from other boards and could not complete their formal education and those who want to concentrate on extracurricular activities.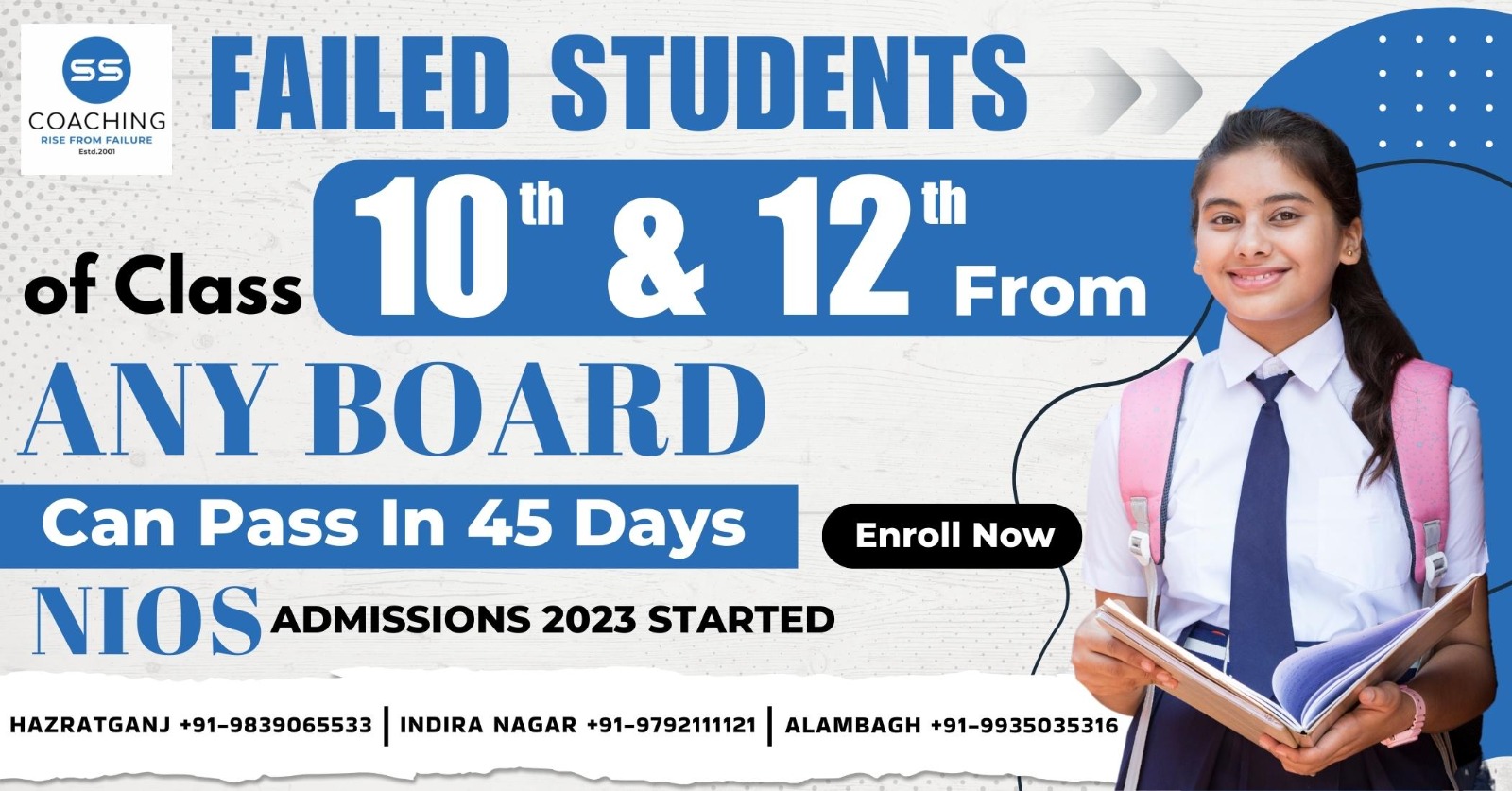 Flexibility The NIOS provides flexibility with respect to :
Choice of Subjects: You can select subjects of your choice from the given list keeping in view the passing criteria.

Admission: You can take admission Online under various streams or through Study Centres at Secondary and Senior Secondary levels.

Examination: Public Examinations are held twice a year. Nine examination chances are offered in five years. You can take any examination during this period when you are well prepared and avail the facility of credit accumulation also.

On Demand Examination: You can also appear in the On-Demand Examination (ODES) of NIOS at Secondary and Senior Secondary levels at the Headquarter at NOIDA and All Regional Centres as and when you are ready for the examination after first public examination.
SS Coaching NIOS school in Lucknow,
center accommodate both regular students and students with learning difficulties in our coaching institute. Attendance is also not a compulsion. Students can also choose the subjects they wish to take up, including various subjects. The syllabus is considered to be tougher than the State Board syllabus and almost equivalent to the Central Board of Secondary Education. But the Material for study is such that gives an easy way for students to learn and perform in exams.
Students from other recognized boards who have failed in their examination can also transfer the credit of two of their subjects to the NIOS and complete the exam within the period five years. Students, meanwhile, feel the need to receive textbooks at the start of the academic year and also timely declaration of final results.
For Instance, Pranoy Chatterjee's schooling has gone through many ups and downs. After studying till Class V in a Uttar Pradesh Madhyamik Shiksha Parishad (upmsp), he decided to join a CBSE English medium school, but could not cope with the new syllabus and joined Class 2nd to start from a little back again. He was 14 years then and was still studying in Class 6th. When he finally decided to directly take up the Class X Board exam through the National Institute of Open Schooling (NIOS) Board.
SSCoaching NIOS school in lucknow, helps students get complete information about NIOS board (National Institute of Open Schooling) with coaching classes that prepare students for clearing nios exams, syllabus and tuition for 10th & 12th students of NIOS Board by qualified staff and trainers who have a decades experience of nios curriculum. SS Coaching NIOS school in lucknow, also helps in form filling for admissions in each stream (
stream 1
,
stream 2, stream 3 & 4
) of NIOS Board for 10th and 12th admission seekers.
---