What is NIOS success mantra?
SS Coaching
NIOS school in lucknow,
also guides to fill the form for online admissions in all streams of NIOS Board for 10th and 12th students. Sscoaching provides the information about NIOS board (National Institute of Open Schooling) as well as coaching classes, syllabus and tuition for 10th (secondary) & 12th (senior secondary) students of NIOS Board by renowned and highly qualified faculty and staff.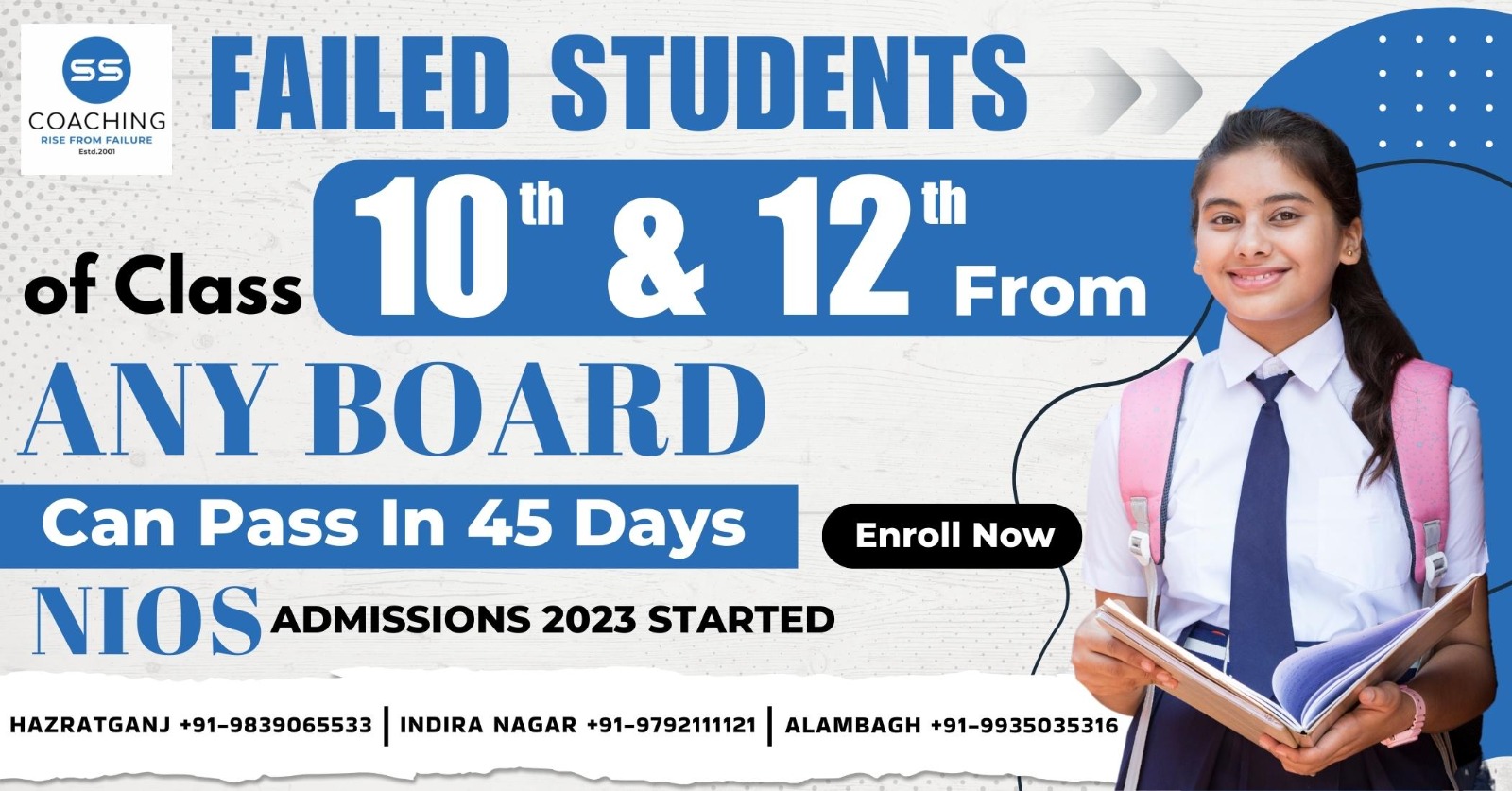 Let us see some measures by adopting which, a student can increase his marks in the board exam. NIOS is equally reputed and valuable like any other recognized board in India and students can present its degrees everywhere.
Try to study on a regular basis and do not leave it too late for completing your syllabus.

Complete your project, activity and other practical work as early as possible, so that you can get proper time to complete your syllabus on time.

Give special emphasis on those subjects in which you are weaker.

Special attention should be given on revising those chapters which you have already completed.

In subjects like Mathematics, Physics, Chemistry, solve 5-10 questions daily to attain constancy in you preparation.

First of all, try to finish easier chapters in which you are more comfortable. It will boost your confidence.

Do not study at late night. It is not going to help your body. Instead sleep as early as possible and wake up early in the morning. In morning you will find it easier in learning your chapters.

Do not take undue pressure or stress on your mind. It is only going to harm you.

Read NCERT books regularly. CBSE and NIOS board exam question papers are completely based on this book.

Take balanced diet and try to remain healthy.

Take regular breaks during your study.

Leave those chapters which you are unable to memorise. It's better to become master of one chapter than becoming slave of all. Wasting much time on a single chapter in last days is not wise. In board exam, each chapter generally carries 4-5 marks on an average.

On examination day don't think about those chapters which you have not remembered. Feel confident about those lessons which you have learned well. It will increase your confidence and will remove your stress.
It is a specialty of Nios board that it is very easy and flexible. Once enrolled in the board, the learner is eligible to give exam 9 times within 5 years. After you clear any exam it is accepted and secured for further examination attempts. This procedure is accepted for all streams (1, 2, 3 & 4). It is very important for N.I.O.S learners to follow a strict and timely schedule. Set targets for your future that are achievable and try to achieve these targets even if you face a lot of hardships because once you clear the class 12th examination, it will be a wonderful feeling of contempt and satisfaction for you. Class XII can be very stressful as students have to prepare for both N.I.O.S exams as well as entrance competitive exams. However, one must make a timetable and follow it will full authority. Work hard for two years and then you can reap its benefits forever.
SS Coaching
NIOS school in lucknow,
experienced staff will help you in each step to perform brilliantly in all NIOS exams because we have an experience of more than 15 years in training students for NOS examinations.
Try to find out previous year question paper from our website or else visit market to find the guides which contains the previous year question papers. If you follow the instructions carefully it is without any doubt that anyone can stop you to pass out from the exams conducted by the NIOS and take the pass out certificate without loosing any more academic years.
Today each year millions of students appear in the Class 10 and 12 board exams conducted by CBSE (Central Board of Secondary Education) and ISC (Indian Secondary Certificate) and also NIOS which is an open school all recognized by central government of India. But only few percent of students succeed in getting more than 90 percent of marks and many fail even. Poor guidance is one of the major causes responsible for the poor result of many students. Board exams are not as tough as many students used to feel. An average student who used to study on a regular basis can easily go on to hit 80 percent of marks in these exams .Nowadays obtaining good marks in the board exam is very necessary be it regular schooling or open schooling, but many even fail in boards and a good option then for students is getting passed by NIOS exams in the same year, thus saving time and career. In many competitive exams like NEET for medical students and CBSE Mains and Advanced test for engineering and IIT students, candidates are selected based on their board exam marks for appearing in these exams.
SSCoaching NIOS school in lucknow, helps students get complete information about NIOS board (National Institute of Open Schooling) with coaching classes that prepare students for clearing nios exams, syllabus and tuition for 10th & 12th students of NIOS Board by qualified staff and trainers who have a decades experience of nios curriculum. SS Coaching NIOS school in lucknow, also helps in form filling for admissions in each stream (
stream 1, stream 2, stream 3 & 4
) of NIOS Board for 10th and 12th admission seekers.
---